All ensembles come with one reversible bodice and a long, cotton skirt.  You may purchase additional skirts here.

Chemise blouses, belts, mug straps and tankards are sold separately.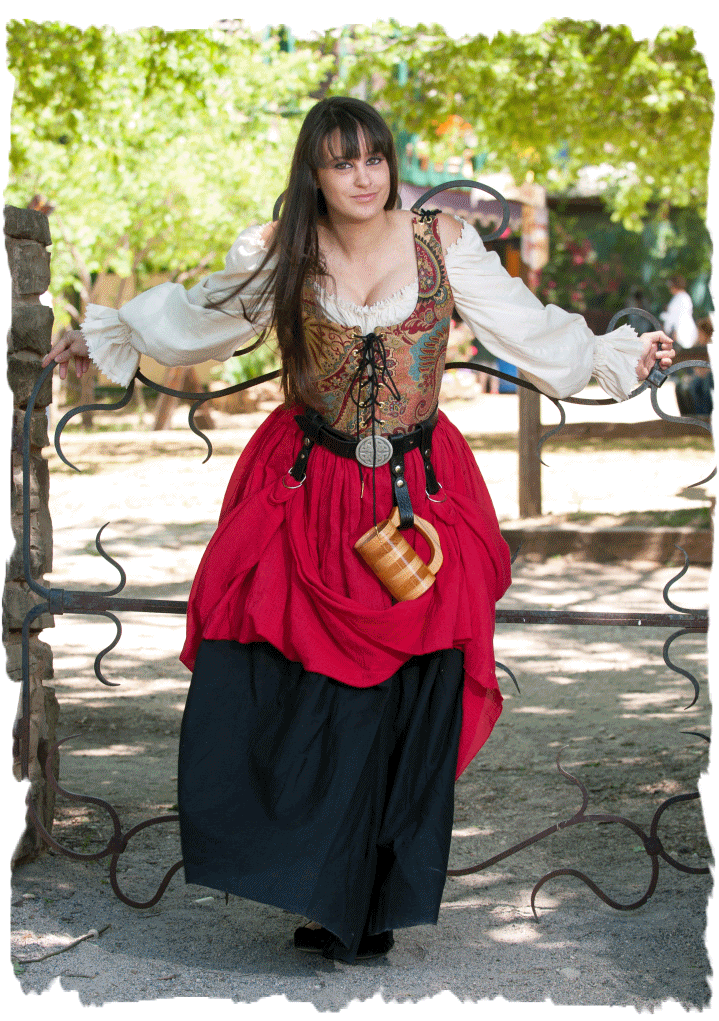 My reversible bodice and skirt ensembles are custom made for your unique measurements and snugness preference.  I can accommodate busts up to 48 inches.  My normal lead time is about 2-3 weeks.  If you have a deadline, please email prior to purchasing to confirm that your time frame can be met.  Otherwise, when I receive your order I will give you an idea of when to expect your fabulous new ensemble.  My ensembles and gowns are displayed with a four-hoop slip which is not included but is readily available from other online merchants. 
I also offer a sewn shoulder seam on the bodices rather than the grommets and cording, but they will no longer be reversible.  (You'll need to select which of the two bodice fabrics you want to show.)  If that is your preference, please include that information with your order.

Be sure to check back often. I add new ensembles frequently. When I run out of bodice fabrics for any given ensemble, they are not replaced. So, if you see something you like don't wait too long to order. 
If you want a different skirt color than shown in the ensemble, let me know.  Click on this link for the available skirt colors.

A word about shipping costs…unfortunately, my shopping cart doesn't calculate discounts for multiple items; however, I do!  If you've overpaid for shipping, I will refund the overage.  Please feel free to contact me for a shipping estimate prior to purchasing multiple items OR for international shipping as my shopping cart does not calculate this either.
You may include your measurement and fit information with your Paypal payment (there's a 'notes' section) or use the CONTACT form at the bottom of all pages on my website.  Click this link for details on Measurement and Fit Information.

CLICK ON THE THUMBNAIL PHOTOS TO GO TO SPECIFIC ENSEMBLES.
Gray Floral Bodice and Skirt Ensemble

$155.00

Purple Haze Bodice & Skirt Ensemble

$160.00

Night Flowers Bodice and Skirt Ensemble

$155.00

Floral Celadon Bodice & Skirt Ensemble

$155.00

Pirate Queen Bodice & Skirt Ensemble

$155.00

Paprika Floral Bodice & Skirt Ensemble

$155.00

Build Your Own Bodice & Skirt Ensemble

$155.00

Gold & Rubies Bodice & Skirt Ensemble

$155.00

Blushing Beauty Bodice & Skirt Ensemble

$155.00

Autumn Spice Bodice & Skirt Ensemble

$155.00

The Royal Iris Bodice & Skirt Ensemble

$155.00

Vineyard Green Splendor Bodice & Skirt Ensemble

155.00

The Wedgewood Bodice Skirt Ensemble

$155.00

 

The Anne Bonny Bodice Skirt Ensemble

$160.00

Amber and Ebony Bodice Skirt Ensemble

$160.00

Merry Medallions Bodice Skirt Ensemble

$155.00

Scottish Lass Bodice Skirt Ensemble

$160.00

Sea Glass & Fawn Bodice Skirt Ensemble

$150.00