Handcrafted Celtic Embossed Leather Belt
Customized for YOU with your choice of 6 buckle styles!
Mug Straps sold separately.
All Leather Belts and Mug Straps are made from tanned cowhide. They are made from 8-9oz. leather (7/64″ – 8/64″ thick) so you can feel the quality. All are hand embossed with a running Celtic pattern.
Edges are trimmed on both sides (rounded). A minimum of three coats of high quality oil dye is applied to each belt. Belts have a snap instead of a rivet to hold the buckle, which means you can change the buckle in the future. Front and edges on all leather goods are sealed with Resolene to protect the finish.
Standard Sizes:
Size 1 – 26″-30″
Size 2 – 28″-32″
Size 3 – 30″-34″
Size 4 – 32″-36″
Size 5 – 34″-38″
Size 6 – 36″-40″
Size 7 – 38″-42″
Size 8 – 40″-44″
Size 9 – 42″-46″
Size 10 – 44″-48″
If you prefer a size somewhere in between, just let me know. Since this is a customized belt, the Royal Leather-er can put the holes at whatever measurements you'd like.
We occasionally have larger sizes available. If you need a belt longer than Size 10, email to check availability.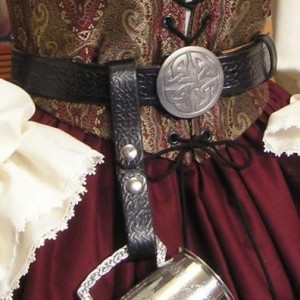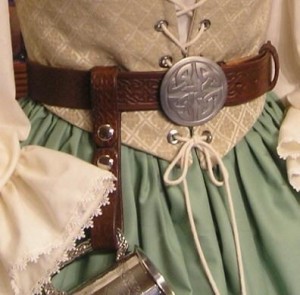 $49.00