The Celtic embossed leather mug strap…it's where to store your mug on those sad occasions when it's empty.
Handmade from high-quality vegetable tanned 8-9 oz. cowhide.
Celtic embossed design.
Belts sold separately.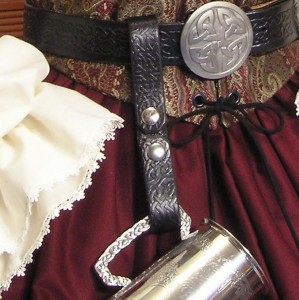 Available in two colors:
And two widths:
Two loops with snaps…one for your belt, one for your mug.   Which means, if you forget to put it on your belt before you put your belt on, you don't have to take everything off just to get the mug strap on.  Brilliant!!!
Belts sold separately.
(Brown color varies due to leather absorption and other conditions.)
$12.00