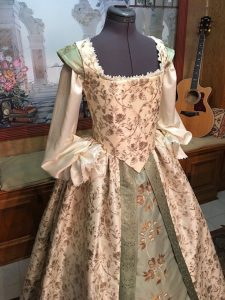 NO LONGER AVAILABLE.
This spectacular gown will be custom made for your unique measurements and snugness preference.
I've used a four-hoop slip and a bum roll for display purposes, both of which will be necessary to achieve this dramatic silhouette.
The Bodice
The Bodice is designed to achieve the period-correct conical figure (no darts or princess seams) by pressing the chest and stomach flat and squeezing the bosom up above the neckline. (Unfortunately, my dress form can't "squish", but hopefully you get the idea!).

The primary fabric is medium-light weight ivory fabric with a woven design in taupe.  The shoulder treatments (epaulets) are made from sage green satiny jacquard with a lovely woven vine design.
Seven pieces of coated steel boning have been sewn in strategic places throughout the bodice, and two more pieces of poly boning have been sewn along the eighteen machined grommets in the back.  Nine pieces of boning will provide sturdiness, support and a nice push-up and cinching effect.  There is also a privacy panel (shown in the back view photo) to cover any gaping between the grommets.
The Split Overskirt
Has been embellished at the opening with more of the sage jacquard and painstakingly gathered into a three-inch waistband.  The waistband utilizes a hook and eye closing system.   It will be serge hemmed to your desired length, ready for final hemming by your tailor.
The Forepart
Is made with a sage green embroidered taffeta fabric with a woven design in cream and antique gold.  It is a wedge-shaped piece of fabric with a drawstring waist.  It has been serge hemmed on the sides and bottom, ready for final hemming by your tailor.
The Chemise Blouse
Is made with an ivory silk and cotton blend satin (not polyester).   The cuffs and neckline are embellished with half-inch ivory venise lace.  The elastic wrist is easily adjusted from the inside.
The Modesty Panel Is a rectangular piece which perfectly matches the bodice and is designed to lay under the cording. This allows the wearer to loosen the cording without showing the underlying chemise and also allows for more size options.
$699.00