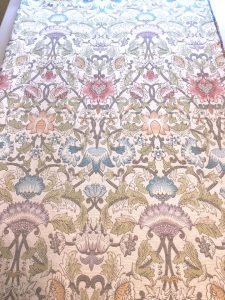 UPDATE 10-14-19:  The embroidered linen fabric shown in the reverse side of the bodice is no longer available.  I will substitute with an equally lovely fabric.
The Bodice
The first side is made with a whimsical tapestry fabric with a woven floral design in sage green, gray, blue, lavender, red, and peach on a cream background.  It reverses to a linen blend fabric with an embroidered floral design in ivy green, aqua, and yellow on a light cream background.  Cream cording laces up the front through 14 grommets and at the shoulders through 8 more grommets.  The cording ends are crimped with aiglets for ease of threading and a nice, finished look.  (As with all my bodice ensembles, sewn shoulder seams are available upon request, but the bodice will no longer be reversible.)  PLEASE NOTE THE LENGTHY PATTERN REPEAT IN THE FINAL PICTURE.  THE COLORS IN YOUR BODICE WILL BE DETERMINED BY WHERE I PLACE THE BODICE PATTERN ON THE BOLT OF FABRIC.  IT MAY CONTAIN BLUE AND LAVENDER OR PEACH AND BLUE OR RED AND PEACH.  I CAN'T CONTROL WHAT COLORS YOURS WILL CONTAIN.  I MUST MAKE USE OF ALL MY FABRIC AND NOT WASTE ANY TRYING TO ACHIEVE CERTAIN COLORS.
This very sturdy bodice is designed to achieve the period-correct conical figure (no darts or princess seams) by pressing the chest and stomach flat and squeezing the bosom up above the neckline.  (Unfortunately, my dress form can't "squish", but hopefully you get the idea!). It has 8 pieces of supportive boning (a combination of coated spring steel and heavy poly…not that bridal stuff) and is interlined with heavy weight interfacing.  What does all this mean to you?   Superb support, comfort and excellent durability for many years of wear.
The tighter the fit, the more "push up" and "cinching" effect achieved.
The Cotton Skirt
Is made with four full yards of gray/lilac 100% cotton fabric in a cool, comfortable weight (not a poly/cotton blend which has a distinct synthetic sheen in the sunlight).  (The manufacturer calls this gray.  To me, it has a lilac tone to it.)  It has a drawstring waist for the perfect fit. (I prefer drawstring to elastic in the skirts of my own costumes since they can be worn very tightly under a gown or bodice without riding down.)  Circumference is a full 144″.  Serge hemmed to desired length up to 42 inches.
Chemise blouse sold separately.
Click here for measurement and fit information.
$150.00