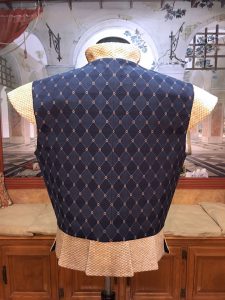 UPDATE: March  20, 2021: I'm temporarily suspending orders for court gowns and doublets.
This refined doublet is made with a jacquard fabric with a woven diamond design in deep blue and cream. It is lined with medium-heavy weight upholstery fabric and interlined with heavy weight interfacing.  Seven or eight sewn cord loops attach to metal buttons on the opposite side of the torso for easy closure.  Underneath the loops is a finished placket to discreetly cover any gaping between the front two sections of the doublet.
The shoulder caps, collar, and waist tabs are made with a coordinating basket-weave chenille fabric in the cream and tan.
The lined sleeves are detachable and tie with cording (crimped with aiglets) to d-rings which have been placed inconspicuously inside the doublet armholes.    I've sewn more of the elegant antique silver buttons and cord loops at five places along the opening of each sleeve.  The sleeves are designed to allow glimpses of the shirt worn underneath.
As you can see, the doublet is magnificent with or without the sleeves and is available for purchase either way.
This doublet is made when ordered in standard chest sizes 30 through 52.  I do adjust for torso length but not for ale bellies.  However, for an extra fee I can make the side seams close with grommets and cording rather than sewn which will allow for more adjustment.
Winchester Doublet with detachable sleeves $375.00.  If you would like to omit the sleeves, the doublet by itself is $295.