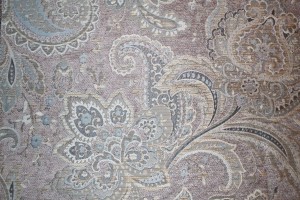 The Bodice is designed to achieve the period-correct conical figure (no darts or princess seams) by pressing the chest and stomach flat and squeezing the bosom up above the neckline. (Unfortunately, my dress form can't "squish", but hopefully you get the idea!). It is made with an absolutely stunning chenille fabric with a lilac background and a woven whimsical design in silver, pewter and slate.  (It is LILAC, not pink as shown in some of the photos.  The final fabric photo is the best version of the true colors in the fabric.)  It is embellished with a tabbed peplum (picadills) and tabbed shoulder treatments (epaulets) in a beautifully coordinated light grey basket weave fabric.  Cording laces up the sides through silver grommets.  The cording ends are crimped with silver aiglets for ease of threading and a nice, finished look.
It is lined with heavyweight decor fabric, interlined with heavy decor weight interfacing and contains 7 pieces of supportive spring steel boning. This bodice is sufficiently supportive and sturdy so no additional underpinnings (corset) are necessary.  The tighter it's laced, the more "push up and together" effect you'll get. The neckline is designed for displaying a lovely decolletage.
The Skirt is very full and made with a charcoal grey linen and rayon blend fabric which drapes beautifully.  It has a drawstring waist, with grommets reinforcing the drawstring opening.  It is serge hemmed to your desired length.
I've used a bum roll and hoop slip in the photos.  In order to achieve this level of fullness and 'popping' effect of the skirt directly under bodice, these underpinnings will be necessary.  The chemise blouse is sold separately.
$295.00