Ragnarok Celtic Pewter Tankard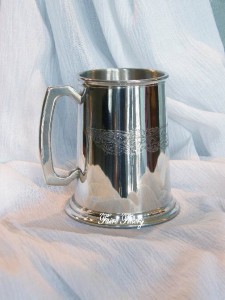 Ragnarok Celtic Dragon is engraved (not embossed) around the tankard. Two images are separate and are separated by another engraved image. Holds 16 oz. of your favorite beverage.
Made in England. Crafted by master craftsman who are members of 'The Worshipful Company of Pewterers'. This group was granted a charter in 1474 by King Edward IV for the legal manufacture of pewter throughout England. Many of the ancient pewter-smithing skills are still utilized today in the making of these flasks. They only manufacture the highest quality fine pewter drinking vessels.
$49.00