Half Pint Celtic Pewter Tankard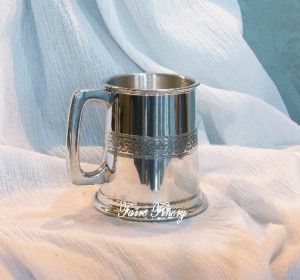 SORRY! OUT OF STOCK AT THE MOMENT.
Smaller size is great for those who drink wine. Also, the smaller dimensions makes this perfect for children. This pewter tankard is engraved with the Celtic Knot Design and comes with the square style handle. It is smaller than a standard tankard and holds a half pint (or for those of us who reside 'across the pond', that would be 8oz.)
Measures about 3 3/4″ tall and about 3 1/2″ across the base. The upper lip is turned out to match the design at the bottom of the tankard. Pewter cast is quite thick so design is barely visible on the inside (which, in turn, makes the weight rather substantial for such a small size).
PERFECT for Renaissance or Medieval Weddings or just to impress the gang at Faire.
Made in England. Crafted by master craftsman who are members of 'The Worshipful Company of Pewterers'. This group was granted a charter in 1474 by King Edward IV for the legal manufacture of pewter throughout England. Many of the ancient pewter-smithing skills are still utilized today in the making of these flasks. They only manufacture the highest quality fine pewter drinking vessels.
$37.00