Captain's Tankard, Full Pint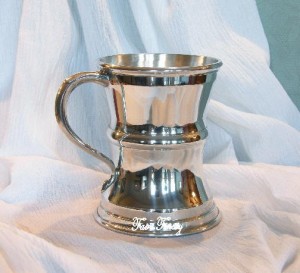 Looking for a tankard to go with the pirate in you? Simple elegance with minimal engraving. Handle has 'thumb catcher' on top. This pewter tankard is the standard one pint size. Lead free pewter polished to a mirror finish.
Tankard measures about 5″ tall and about 4″ across the top and bottom. A heavy and good looking polished pewter tankard.
Made in England. Crafted by master craftsman who are members of 'The Worshipful Company of Pewterers'. This group was granted a charter in 1474 by King Edward IV for the legal manufacture of pewter throughout England. Many of the ancient pewter-smithing skills are still utilized today in the making of these flasks. They only manufacture the highest quality fine pewter drinking vessels.
NO LONGER AVAILABLE