Celtic Kai Knot Inlaid Flask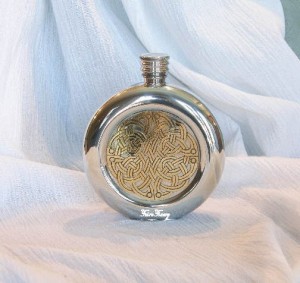 This round Celtic flask has a highly engraved brass Celtic Kai Knot inlay and holds 6oz. Measures about 4″ across. Lid is a screw on type so it's less likely to get lost than those cheaper 'press fit' caps. Screw on lid also has a o-ring seal to prevent leaks. Difficult to see in the picture but the base has a flat spot at the bottom to allow the flask to sit upright on a table.
This is a beautiful flask and the brass inlay with its intricate design really stands out against the polished pewter. The back side is polished to a mirror like finish.
A real attention-getter!
Perfect for Renaissance or Medieval Weddings or just to impress the gang at Faire.
Made in England. Crafted by master craftsman who are members of 'The Worshipful Company of Pewterers'. This group was granted a charter in 1474 by King Edward IV for the legal manufacture of pewter throughout England. Many of the ancient pewter-smithing skills are still utilized today in the making of these flasks. They only manufacture the highest quality fine pewter drinking vessels.
$59.00