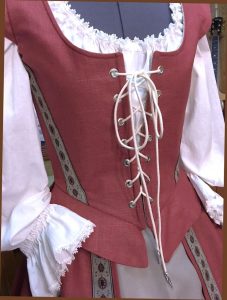 NO LONGER AVAILABLE.


THE BODICE:
Is made with linen fabric in a medium weight. The color is a dusky mauve with a hint of brick. The attached split-cap epaulets and skirted peplum are made from the same fabric and are an elegant addition to my standard bodice . The bodice has been embellished with luxurious jacquard trim in the front and back which results in a figure-flattering effect.
The bodice is designed to achieve the period-correct conical figure (no darts or princess seams) by pressing the chest and stomach flat and squeezing the bosom up above the neckline. (Unfortunately, my dress form can't "squish", but hopefully you get the idea!). Natural cording laces up the front through 14 grommets. The cording ends are crimped with aiglets for ease of threading and a nice, finished look. It is lined with heavy weight upholstery fabric, interlined with decor weight interfacing, and contains 8 pieces of supportive boning (a combination of spring steel and heavy commercial-grade poly). What does all this mean to you? Superb support and excellent durability while still being reasonably comfortable.
YOUR bust and waist measurements should be at least the same as the Bodice and can be up to 3 inches LARGER. The tighter it's laced, the more "push up and together" effect you'll get.
THE SPLIT-FRONT OVERSKIRT:
It is gored to eliminate bulk at the waist (wedge-shaped panels rather than rectangular) and has a drawstring waist for the perfect fit. The openings of the split front have been embellished with more of the matching jacquard trim. Serge hemmed to desired length.
THE FOREPART:
Is a gray wedge-shaped piece of finished linen/cotton blend fabric . It has a drawstring waist. Serge hemmed to desired length.
Other colors may be available in this gown.  Use the contact form with any questions or preferences.
The muslin lace-trimmed blouse is not included but is available separately.
Cavalier Lady Gown $425.00