Cabochon Heavy Gauge
20 oz. Pewter Tankard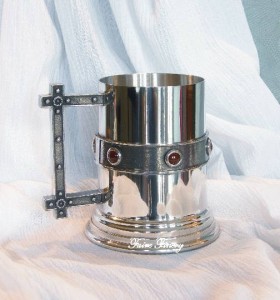 Spectacular heavy gauge, Pre-Raphaelite styled tankard. Larger than most other pewter tankards and mugs; actually holds about 20 ounces. Body has 6 cornelian cabochons embedded in the center band. A little over 5″ tall.
The band with cabochons is not engraved but actually external to the tankard body. That means the inside of the tankard is completely smooth. Handle carries the stone design with raised polished 'beads'. Body is highly polished. Pewter is lead free, of course.
Perfect for anyone, really. Royalty…Pirates…Barbarians…you name it.
Made in England. Crafted by master craftsman who are members of 'The Worshipful Company of Pewterers'. This group was granted a charter in 1474 by King Edward IV for the legal manufacture of pewter throughout England. Many of the ancient pewter-smithing skills are still utilized today in the making of these flasks. They only manufacture the highest quality fine pewter drinking vessels.
NO LONGER AVAILABLE